How NGA is operating - Autumn Term 2020
From September 2020, all pupils were expected to return to school. However, there are some major differences to our normal operation. This page outlines how we are currently operating and what pupils should expect.
Update, 1 November 2020
Outside zones added to the list of communal areas that face coverings must be worn. Information added to the Health and Hygiene section.
Previous Updates
10 October 2020
FACE COVERINGS COMPULSORY IN COMMUNAL AREAS FROM MONDAY 12 OCTOBER 2020
23 September 2020
NEW (from 28/9/20) A1 and A2 bus timetables added in Travel section
A1 and A2 map added to Travel section
15 September 2020
New A1 and A2 bus timetable added in Travel section
7 September 2020
New route to Year 10 outside zone created - see picture in Bubbles and Zones section
5 September 2020
Operating Procedures replaced by latest version (v2.2)
1 September 2020
Note about uniform supply problems added to the Uniform section
31 August 2020
Revised timetables for the A1 and A2 bus services added to the Travel section
27 August 2020
Information on face coverings added to the Hygiene and Health section
Hygiene and Health
Coronavirus (Covid-19) Symptoms
PUPILS, STAFF AND OTHER ADULTS MUST NOT COME INTO THE SCHOOL IF THEY HAVE CORONAVIRUS (COVID-19) SYMPTOMS OR HAVE TESTED POSITIVE IN THE LAST 10 DAYS.
If anyone in the school becomes unwell with a new, continuous cough or a high temperature, or has a loss of, or change in, their normal sense of taste or smell (anosmia), they will be sent home and advised to follow 'stay at home: guidance for households with possible or confirmed coronavirus (COVID-19) infection', which sets out that they must self-isolate for at least 10 days and should arrange to have a test to see if they have coronavirus (COVID-19). Other members of their household (including any siblings) should self-isolate for 14 days from when the symptomatic person first had symptoms.
If a child is awaiting collection, they will wait in the medical room where they will be isolated behind a closed door with the window open.
Coming into Contact with People with Symptoms
Pupils who have been in close contact with someone with symptoms do not need to go home to self-isolate unless they develop symptoms themselves (in which case, they should arrange a test) or if the symptomatic person subsequently tests positive (see below) or they have been requested to do so by NHS Test and Trace (see below).
After any contact with someone who is unwell, everyone must wash their hands thoroughly for 20 seconds with soap and running water or use hand sanitiser.
Hand Washing
Coronavirus (COVID-19) is an easy virus to kill when it is on skin. This can be done with soap and running water or hand sanitiser. Therefore, pupils must clean their hands regularly, including when:
they arrive at school (hand sanitiser dispensers will be installed at each site entrance)
after visiting the bathroom (they should use the provided soap and water and wash their hands for at least 20 seconds)
when they return from breaks (hand sanitiser dispensers will be installed in each classroom)
when they change rooms and before and after eating (hand sanitiser dispensers will be installed at the entrance and exits to the dining room)
Regular and thorough hand cleaning is going to be needed for the foreseeable future.
Face Coverings
In response to the local and National rise in coronavirus cases, and the cases we reported in school last week, face coverings will be compulsory for all adults and pupils (apart from those with exemptions - see below) in all communal areas on site from Monday 12 October 2020.
What are communal areas?
Communal areas include:
corridors
toilet areas
dining areas and queues (apart from when seated in the dining room)
outside zones (apart from in PE, dance or drama lessons)
offices
staff rooms.
They will mostly remain optional in classrooms, although a small number of pupils sat near the front of some of our smaller classrooms will be asked to wear them throughout their lesson in that room.
Social Distancing
We are also concerned that pupils - particularly in younger year groups - are finding it difficult to remain at least 1m apart at unstructured times. Where this is the case we will ask pupils to put on face coverings.
We will keep this under review and the wearing of face coverings for pupils at break and lunch time may also become compulsory.
Government guidelines
Government guidance on face coverings in educational settings can be found here:
Face Coverings in Educational Settings
Wearing Face Coverings
Whenever they are worn, it is vital that face coverings are worn correctly and that clear instructions are provided to staff, children and young people on how to put on, remove, store and dispose of face coverings in all of the circumstances above, to avoid inadvertently increasing the risks of transmission. Pupils will be provided with information on this during tutor times on their day of return.
Public Transport
Face coverings are required at all times on public transport (for children over the age of 11) or when attending a hospital as a visitor or outpatient.
Exemptions
Some individuals are exempt from wearing face coverings. For example people who cannot put on, wear or remove a face covering because of a physical or mental illness or impairment, or disability, or if you are speaking to or providing assistance to someone who relies on lip reading, clear sound or facial expression to communicate. The same exemptions will apply in education settings, and we would expect teachers and other staff to be sensitive to those needs.
If your daughter is exempt from wearing a face covering, please can you write a note in her planner explaining the reason.
Catch It, Bin It, Kill It
The 'catch it, bin it, kill it' approach continues to be very important.
Tissues and bins will be available throughout the school to support pupils and staff to follow this routine.
Test and Trace
Staff and pupils will be expected to abide by the government's test and trace process:
Schools must ensure they understand the NHS Test and Trace process and how to contact their local Public Health England health protection team. Schools must ensure that staff members and parents/carers understand that they will need to be ready and willing to:
book a test if they are displaying symptoms. Staff and pupils must not come into the school if they have symptoms and must be sent home to self-isolate if they develop them in school. All children can be tested, including children under 5, but children aged 11 and under will need to be helped by their parents/carers if using a home testing kit
provide details of anyone they have been in close contact with if they were to test positive for coronavirus (COVID-19) or if asked by NHS Test and Trace
self-isolate if they have been in close contact with someone who develops coronavirus (COVID-19) symptoms or someone who tests positive for coronavirus (COVID-19)
Anyone who displays symptoms of coronavirus (COVID-19) can and should get a test. Tests can be booked online through the NHS testing and tracing for coronavirus website, or ordered by telephone via NHS 119 for those without access to the internet. Essential workers, which includes anyone involved in education or childcare, have priority access to testing.
The government will ensure that it is as easy as possible to get a test through a wide range of routes that are locally accessible, fast and convenient. We will release more details on new testing avenues as and when they become available and will work with schools so they understand what the quickest and easiest way is to get a test. By the autumn term, all schools will be provided with a small number of home testing kits that they can give directly to parents/carers collecting a child who has developed symptoms at school, or staff who have developed symptoms at school, where they think providing one will significantly increase the likelihood of them getting tested. Advice will be provided alongside these kits.
Parents must inform the academy immediately of the results of a test:
if someone tests negative, if they feel well and no longer have symptoms similar to coronavirus (COVID-19), they can stop self-isolating. They could still have another virus, such as a cold or flu – in which case it is still best to avoid contact with other people until they are better. Other members of their household can stop self-isolating.
if someone tests positive, they should follow the 'stay at home: guidance for households with possible or confirmed coronavirus (COVID-19) infection' and must continue to self-isolate for at least 7 days from the onset of their symptoms and then return to school only if they do not have symptoms other than cough or loss of sense of smell/taste. This is because a cough or anosmia can last for several weeks once the infection has gone. The 7-day period starts from the day when they first became ill. If they still have a high temperature, they should keep self-isolating until their temperature returns to normal. Other members of their household should continue self-isolating for the full 14 days.
Bubbles and Zones
Bubbles
Pupils will be separated into whole year-group bubbles.
At Key Stage 3, bubbles will be further tightened so that there is minimal moving between classes. However, they will have break and lunch time as a full year group.
There will be some small additional bubbles for pupils with SEND or EAL. These bubbles will not interact with their year-group bubble.
Zones
To prevent year-group bubbles from interacting the school and its grounds will be divided into zones for each bubble.
Pupils in Year 8, 9 and 11 will use the normal pedestrian entrance to the academy: Gate A
Pupils in Year 7, 10 and the Sixth Form will use the pedestrian entrance further up Robin's Wood Road towards Aspley Lane: Gate B.
This first diagram show the corridors of the main building that each Year group will use and the entrance to the building that they will use (Year 8 will be in the Rosla building).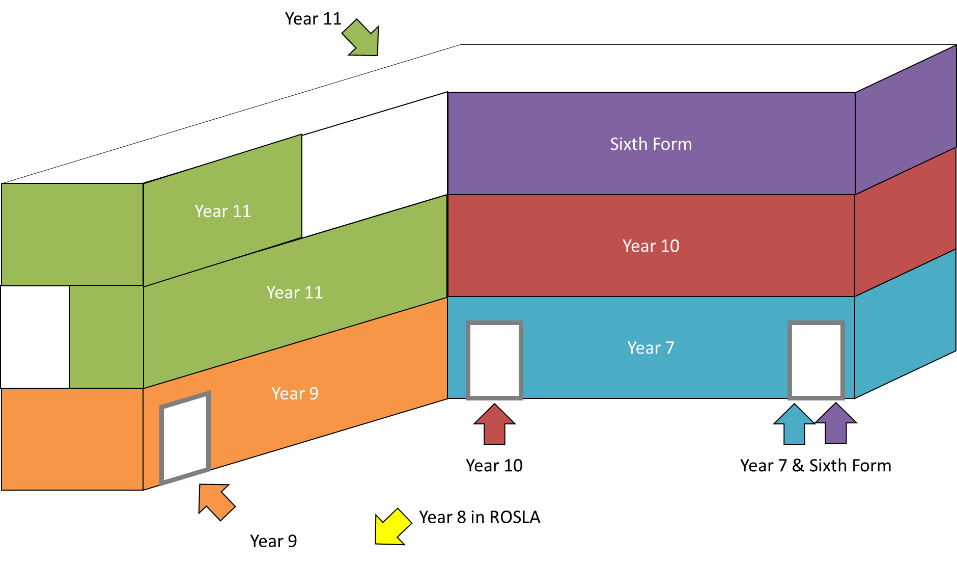 This second is an aerial view of the school and shows the entrances each year group must use when they arrive at the school site and the outside zone they will have access to.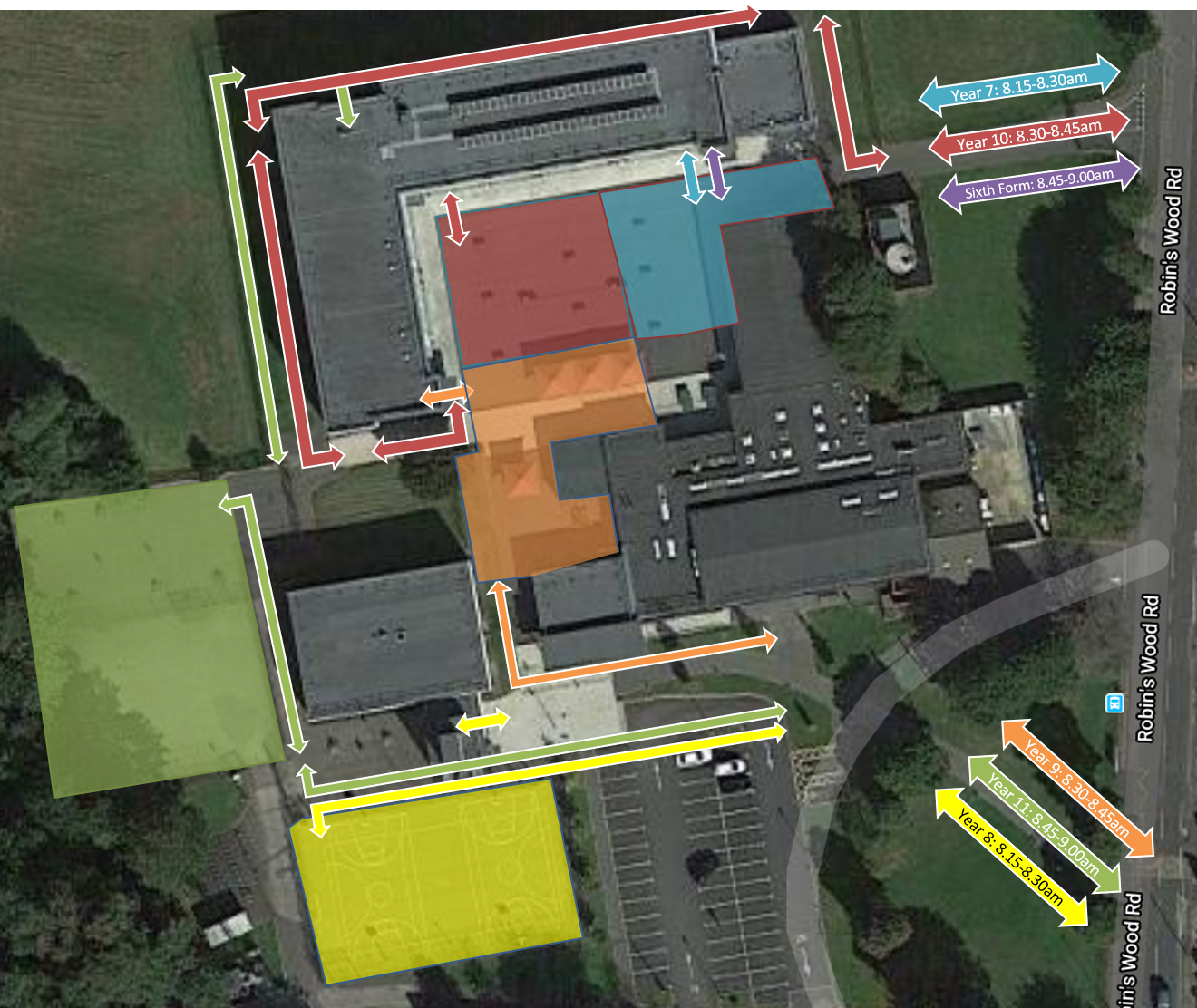 The School Day
To keep bubbles of pupils separated, the start and end of the school day will be staggered for different year groups and break and lunch times will be split.
However, lessons will remain 1hr long to ensure there is no further loss to learning.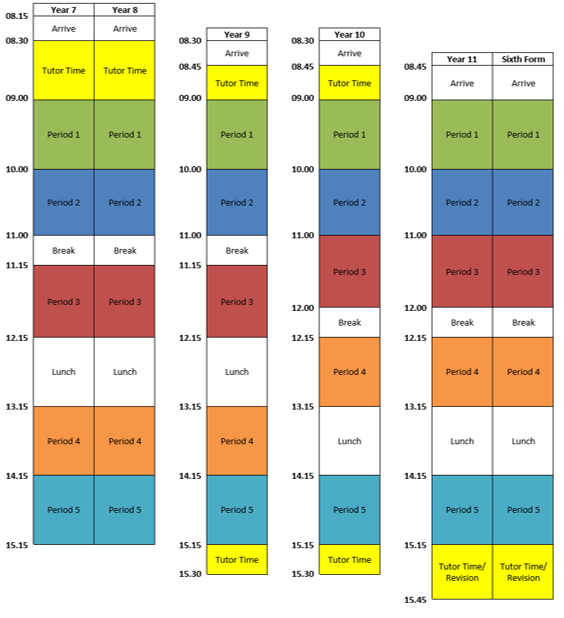 Arrival
On arrival at the site pupils must:
enter via the designated entrance (not congregate near the entrance waiting for friends);
dispose of or store any face coverings;
wash/sanitise their hands;
if applicable, lock their bike in the designated area for their year group;
make their way directly to their designated zone of the courtyard;
await instructions from staff to make their way (via the correct entrance) to their classrooms.
Any households in which children must travel together should ensure all children in the household arrive at whichever is the earliest time required for their separate children. They will follow the same routines as above and go directly to their year group's zone.
Pupils with bikes in Year 8, 9 and 11 will be able to use the bike racks behind the MUGA.
Pupils with bikes in Year 7, 10 and Sixth Form will be able to use new racking for bikes that has been installed near to their entrance.
IT IS ESSENTIAL THAT PUPILS ARRIVE DURING THE DESIGNATED TIMES.
WE WOULD APPRECIATE PARENT SUPPORT AND HELP WITH THIS.
Late Pupils
Pupils that arrive later then the time allocated for their year group bubble MUST NOT cross into another year groups zone.
Children arriving late for their bubble but before 9am should enter via the designated site entrance and go directly to their classroom via the designated building entrance for their year group.
Children arriving after 9am should go to the main pedestrian entrance to the school and use the intercom to alert school staff to the fact they are late and await admission to the site. If other people gather while waiting admission they should remain socially distanced at all times.
Late pupils will continue to receive an after-school detention on the day they are late. Those that are persistently late will face further sanctions.
Early Pupils
If pupils in Year 10 or students in the Sixth Form are early, they will be required to wait on the left-hand side of the path between the site entrance and the courtyard. This will be marked out for social distancing.
If pupils in Year 9 or Year 11 arrive early, they should make their way directly to the zone for their year group, ensuring they always keep socially distanced from other pupils.
Departure
Pupils will also leave the site at staggered times.
On departure they must collect their bike if applicable and then leave the site immediately (not congregate near the entrance waiting for friends) and make their way home directly via their chosen method of transportation.
For children in households in which children must travel together, all children in the household will depart at whichever is the latest time required for the separate children. Children that need to wait for older siblings to come out of school should wait in the designated zone fir their year group.
Travel
Walking and Cycling
Pupils should walk or cycle to school wherever possible.
They MUST NOT wait for friends in other year groups and should, instead, go directly home.
Drop-off and Collection by Car
If you need to bring or collect your daughter by car, please remain in your vehicles and be thoughtful of residents and other road users when parking.
Public Transport
If your daughter does need to use public transport, she must wear a facemask while travelling. These will need to be disposed of in a lidded bin as soon as they arrive on site or kept safely in a sealed plastic bag during the school day. The latest information on using public transport can be found by visiting the NCTX Website.
Due to the staggered end to the school day, the 77 service that collects from the front of school will not be in operation. Pupils will be able to catch the 77 from Aspley Lane
Pupils should catch the first available bus and not wait for friends in other year groups. Where possible, pupils from Nottingham Girls' Academy should sit in pairs on the bus.
The special A1 and A2 services than a small number of our pupils catch have the following timetable:
The route map for these services is available here: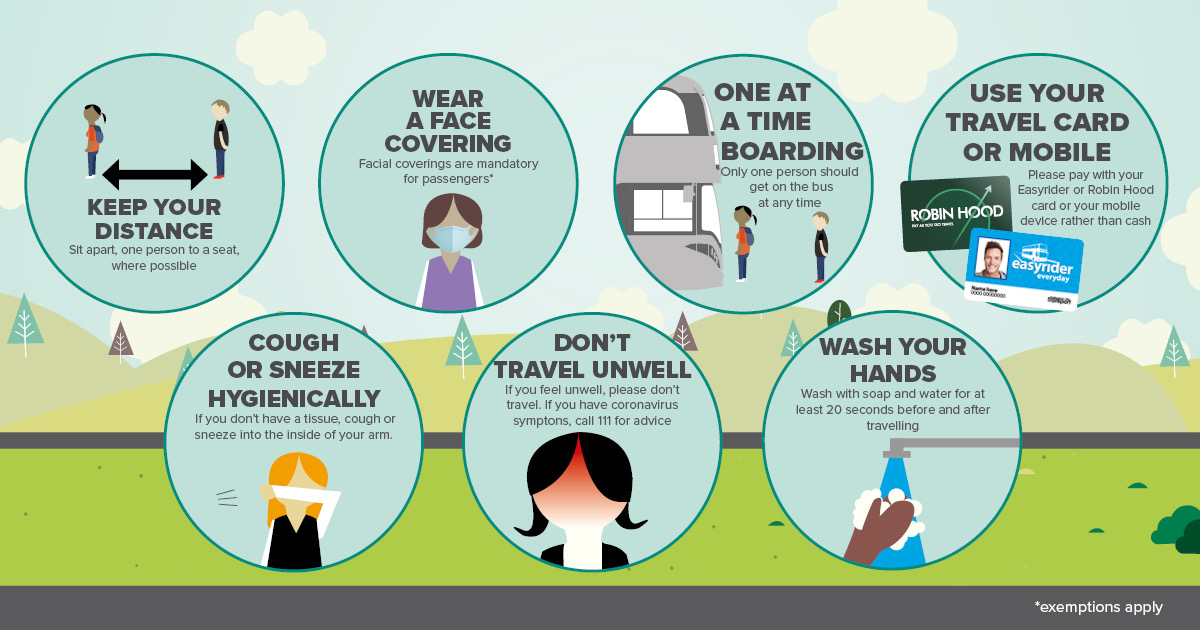 Breakfast Club, Break Time and Lunch Time
Breakfast Club
Unfortunately, we will not be able to run our breakfast club provision to begin with.
Break Time
We will also be unable to provide snacks for pupils to purchase at break time. If they wish to have a snack, they must bring their own and must not share it with other pupils.
Lunch Time
We will be serving hot and cold food at lunch time (although the hot menu will be slightly reduced).
To make sure pupils stick to their bubbles, each year group will have a 20-minute window to have a school lunch.
Pupils will line up at socially distanced intervals in two separate queues.
Those eating a hot meal will eat it in the gym which has been laid out as our dining room to allow enough space between diners.
Those eating cold meals will collect their meal from a new fridge and till point in the old dining room and will be able to eat this in the gym or take it outside.
There will be Perspex dividers between pupils that would otherwise be facing each other. All chairs, tables and dividers in the dining room will be cleaned in between each sitting of pupils.
Those pupils that wish to bring a packed lunch may do so and can eat this at any time during their 1-hour lunch time in their outside zone.
In the event of a wet lunch time, pupils will be supervised in their classrooms in their inside zone, with those that need to collect a hot or cold meal sent to the dining room at the appropriate time.
Parent Pay
The cash top-up machines on site will not be available for use and parents will only be able to top up accounts on line (via parent pay) to pay for their daughters' food.
Uniform
We expect the girls to wear the full school uniform as usual in September.
Pupils who are not in the correct uniform will be sent home to get changed.
Update 1 September 2020: We are aware that some families have experienced a delay in receiving items of uniform (jumpers and/or ties) that they have ordered from our suppliers, Price and Buckland. If this is the case, please send your daughter in to the academy wearing the uniform that she does have, along with a note explaining the issue. Please don't worry about the missing items until they arrive.
PE and Dance
On days when pupils have PE or dance, they should wear their PE kit to school as we cannot use the school changing rooms at present.
For these lessons, pupils must be in their NGA PE kit or plain black joggers and plain black t-shirt.
Fashion leggings are not acceptable.
Pupils in KS4 can wear sports specific leggings as these types of leggings are designed for sport and there is a clear difference, most importantly the thickness of the material.
Ties
Also, any girl not wearing a jumper must tuck their tie into their shirt to prevent it trailing on surfaces.
Face Coverings
Public Health England does not (based on current evidence) recommend the use of face coverings in schools. However, if they wish to wear a face covering, pupils may do so.
Curriculum and Learning
Wellbeing
We are very conscious that many pupils will have found lockdown difficult and stressful and will be anxious about coming back to school in September. Tutor times will be 30 minutes long (rather than the usual 15 minutes) and we have planned work on wellbeing so that pupils can make sense (as far as any of us can) of the last few months and the impact it has had on their lives.
Lessons
We will provide the full curriculum and follow our usual timetable as far as is possible. However, the restrictions of each year group working in zones means that some specialist rooms will not be available to all year groups. This will unfortunately limit some practical and physical lesson.
For example, Key Stage 3 pupils will conduct far fewer practical experiments in science lessons, will not be able to use the food or resistant material room, will not be able to have normal music lessons and will have drama, dance, and PE lessons outside whenever possible.
Exercise Books
Pupils will be asked to keep their exercise books in their school bags. They will not be collected in for marking or storage by teachers.
Marking and Assessment
To avoid handing pupils' exercise books or work, teachers will set homework via Teams using Class Notebook, Microsoft Forms or an online platform such as MathsWatch, GCSEPod or Seneca Learning.
Teachers will use questioning and other Assessment for Learning techniques such as 'show me boards' or asking students to read responses/paragraphs/explanations aloud so that teachers can give 'live' verbal feedback to gauge understanding and progress through a lesson.
Remote Learning
It is possible that a bubble of pupils is advised to stay home for self-isolation or that the school will need to close again temporarily for a local lockdown (such as the recent one in Leicester).
In this situation the school is expected to immediately provide home learning.
If this happens, we will cover the same curriculum as we would be following in school with pupils expected to tune in to live lessons on Microsoft Teams at the times they would have had their lessons in school.
Pupils will be registered for these lessons as usual.
To prepare for this, all pupils will be shown how to access Teams for remote lessons. This will be done in IT lessons and via a video that is being created by the IT team that will be shown in tutor times and hosted on the school website.
Equipment

We need to avoid pupils sharing equipment from their teachers or each other. We are therefore asking that ALL PUPILS bring the items on the list below with them every day. We appreciate this is a lot compared to what we usually ask for and really appreciate your help with this. There will be a small number of packs available free of charge to pupils who receive free school meals.
pen
pencil
pencil crayons
ruler
eraser
sharpener
protractor
pair of compasses
glue stick
whiteboard pen
scientific calculator (we recommend the Casio fx-83GTX scientific calculator)
highlighters
scissors
raincoat / mac (as dance, drama and PE lessons will take place outdoors whenever possible)
water bottle (remember to fill it as the water fountains cannot be used in the academy)
large enough bag to hold all of this equipment, their planner and all of their books.
Extra-Curricular Activities
Unfortunately, there will be limited opportunities for extra-curricular activities in September. Where these can take place, they will initially be contained to year group bubbles.
We are currently unable to consider putting on the annual school show at Christmas. We are desperately hoping that restrictions continue to ease to a point where this becomes possible in some way at some time next year.
Behaviour
As well as our usual high expectations of pupil behaviour we will have to add some additional rules to ensure everyone stays safe. Pupils will be sanctioned if their behaviour involves:
Deliberate movement out of zone
Deliberate non-compliance with hygiene measures
Deliberate breaches of distancing rules
The staggered timings of the day also mean that all detentions (including those for lateness and disruption to lessons) will take place at the end of the school day. In most cases this will be a 10-minute detention. For more serious or repeated issues this will be a 35-minute detention. These timings have been selected to ensure pupils in detention are not leaving site at the same time as pupils from other bubbles.
If these sanctions are necessary, they will take place on the same day as the offence. We expect parents to support us with these sanctions and to use the free ClassCharts Parent App to make sure they are aware of any that may have been issued. Further details about Behaviour and Sanctions and links to the App are available in the Behaviour and Support section of our website.