Entry requirements and subject choices 2020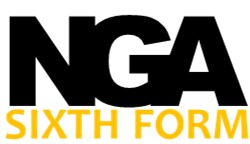 Can I apply?
All students must meet the standard entry requirement of 5 or more GCSEs at Grade 4+ to be able to attend NGA Sixth Form.
One of these GCSEs must be in at least one of English or Maths
Any student joining NGA Sixth Form that does not have a grade 4 pass in English or Maths will be expected to re-sit that subject to aim for a grade 4 or higher.
Additional Entry Requirements:
In addition to meeting the entry requirements above, some subjects have specific requirements:
| | |
| --- | --- |
| A Level | GCSE Grade(s) Required |
| Art | Art 4+ and/or portfolio |
| Biology | Biology 6+ including English 5+ |
| Chemistry | Chemistry 6+ |
| English Literature | English Literature 6+ |
| Geography | Geography 6+ |
| History | History 6+ and English 6+ |
| Mathematics | Mathematics 6+ |
| Film Studies | English 4+ |
| Psychology | Maths 5+ and English 6+ |
| Physics | Maths 5+ and Physics 6+ |
| Sociology | English 6+ and/or Sociology 6+ |
| Spanish | Spanish 6+ |
| | |
| --- | --- |
| Vocational | GCSE Grade(s) Required |
| Applied Human Biology | 5 GCSEs at 4+ including Science 5+ |
| Criminology | 5 GCSEs at 4+ |
| Business Studies | 5 GCSEs at 4+ |
| Health and Social Care | 5 GCSEs at 4+ |
| IT | 5 GCSEs at 4+ including Maths and English |
| Performing Arts | 5 GCSEs at 4+ including Merit+ in Performing Arts |
| Sport | 5 GCSEs at 4+ |