The Year 7s took part in their usual lessons all day on the 10th June 2016, but they were all centrally themed around the Queen and British History.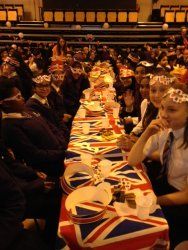 Some examples of lessons were learning the words and music to the national anthem and England football songs, the time line of some historic events for the Queen and some of our famous British history.
In period 7, all students met together in the hall for tea and cake to watch the live broadcast and to celebrate with other cultures within our community.