Nottingham Girls' Academy rated the best-performing school in Nottingham city for Progress 8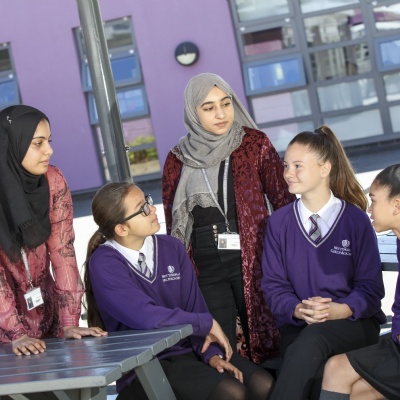 Nottingham Girls' Academy ranked by the Government as best school in the City
--- Pupils' GCSE grades are half a grade higher per subject than similar pupils nationally ---
Nottingham Girls' Academy is again celebrating outstanding results today in the new GCSE tables, which highlight the progress pupils make while at secondary school, noted by the Government as the best school in the City.
The academy, which is rated Good by Ofsted and sponsored by Greenwood Academies Trust, is one of the best-performing schools in the country in the "Progress 8" measure, which measures progress of each pupil from age 11 to GCSE across eight subjects, including key academic subjects.
Nottingham Girls' Academy's score of 0.49 means it is rated as "above average" by the Department for Education and equates to each pupil achieving on average half a GCSE grade better per subject than similar pupils nationally.
The score also means it is in the top 500 secondary schools in England, at 426th equal (top 10 per cent).
David Tungate, Principal of Nottingham Girls' Academy, said:
"We are thrilled for our pupils. They really deserve this success and the platform this gives them to move onto the next phase of their lives with confidence and ambition.
The staff in the Academy have worked tirelessly to support them throughout their time here and they can feel incredibly proud of themselves and the girls.
Of course, our focus is now on the current cohorts of pupils coming through the Academy; continually striving for improvement whilst making sure we all enjoy the journey together."
Wayne Norrie, Chief Executive Officer of Greenwood Academies Trust, said:
"The success of today's result highlights the fantastic work of every staff member and pupil at Nottingham Girls' Academy. The academy always aims to raise the aspirations and broaden horizons for all pupils - no matter what their background, a vision shared so closely by the Trust.
The figures demonstrate the positive difference the Academy is making for the young people it serves and I have every faith that it will continue to work hard and ensure that every pupil has the opportunity to reach their full potential."
Follow the link below to read the news article:
https://www.nottinghampost.com/news/nottingham-news/gcse-league-tables-provisional-progress-2133692